With more than 140 different playgrounds in Copenhagen there's something for everyone. Get off the beaten track and discover Copenhagen's secret playgrounds away from the crowds hidden in courtyards and on rooftops.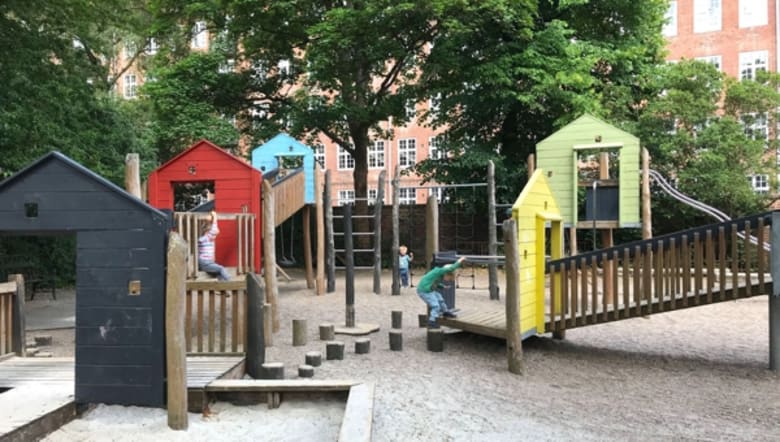 Classens' Garden is a small, "secret" park, which lies hidden in a courtyard on Østerbro. Here you will find a small, quaint playground for the smaller children, with playhouses, monkey bars and jungle gyms, sandpits and gangways. The park is a beautiful and safe oasis as it is separated from the noise and traffic of the city – perfect for families with young children!
The playground in the park of Langelinie pier is a small, maritime gem for the young children. The playground lies in a park next to the Little Mermaid, and the Langelinie pavilion offers playships, a slide with a small tower, with a view of the water, sandpits, jungle gyms, swings and much more. You will also find tables and benches where you can enjoy your lunch and toilets are available if the need arises.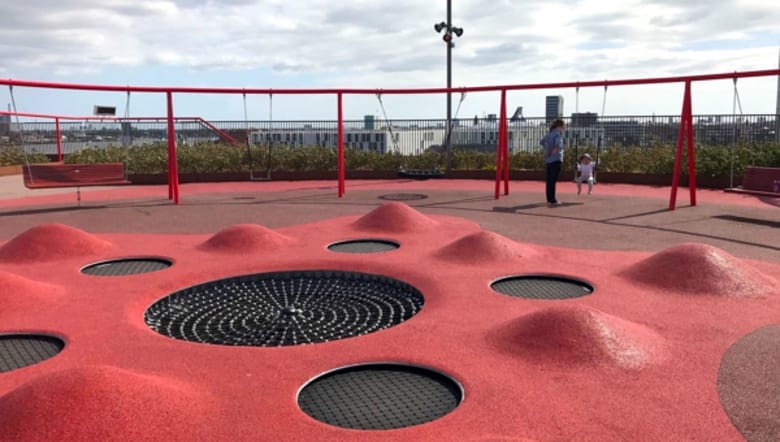 The recreational space Lüders you will find on top of a big, multistorey carpark in Nordhavn. By first glance, you won't notice that a big, incredible playground hides on the top of the 24-meter-tall carpark - but it does! The recreational space boasts trampolines, a climbing spiral, swings, plenty of workout facilities and, of course, a most splendid view of the harbor and the Sound (Øresund).
Most people know the City Oasis, but do you? The City Oasis lies in the Nørrebro district of Copenhagen, in a place distinctive for its many elderly inhabitants. The City Oasis is a green breathing space in the middle of the city, which the children will love! The Oasis consists of a city-farm where the children can meet goats, chickens, rabbits, guinea pigs, mice, birds and bees. Additionally, the Oasis has raised garden beds, an outdoor kitchen with a bonfire and an orangery, which functions as a 135 m2 heated greenhouse.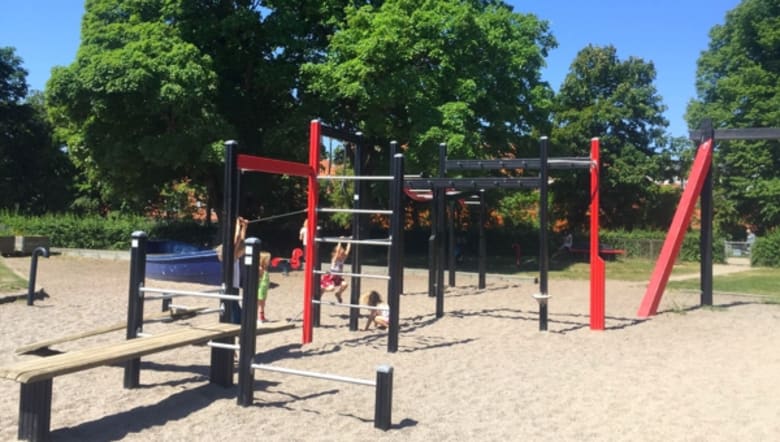 This manned playground on the former rampart of Christianshavn is surrounded by trees and can be hard to miss at first glance if you do not know it is there. On this playground, you will find playhouses and play sheds with building blocks and imaginary boards, an outdoor chess set, a big, wonderful sandpit with plenty of sand play-stuff and tricycles. You can also enjoy the basketball courts, tennis courts, table tennis tables, the big soccer field, the playground ropeway, the climbing castle, the playship, the swings and the seesaws.
Want to save some money on adventures with your kids? Kids in the city Club, which gives you discounts on more than 200 family adventures in Copenhagen.